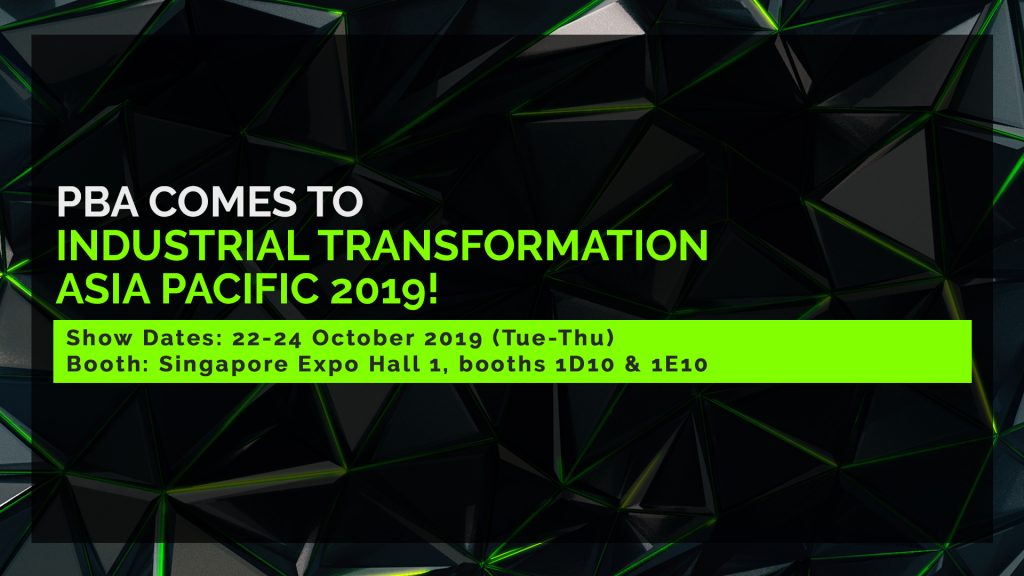 PBA @ Industrial Transformation ASIA-PACIFIC 2019!
Experience the highlights and some of the very best offerings from S.E. Asia's leading Robotics and Automation Enabler.
Come by our booths 1D10 & 1E10 to watch live demos of motion control, direct drive and other innovations in precision robotics, our proprietary GoldenRetriever autonomous mobile robots (AMRs) and more. Witness our Core Tech up close!
Show Dates: 22-24 October 2019 (Tue-Thu)
Explore our exciting line-up of Robotics & Automation solutions, brought together under one roof, in one mega showcase, at Asia Pacific's leading Event for Industry 4.0 – ITAP 2019 (a HANNOVER MESSE Event).            
Highlights
• Witness our display and demonstration of core technologies such as motion control, direct drive and other innovations in precision robotics, as well collaborative robots and more general robotics solutions.
• Discover more about our Automated Material Handling Solutions applied onto the production and warehouse environment – showcasing the 1.5 tonne-carrying Load Transfer AMR – the GR-1500SRC as well as the flexible GR-200 and GR-500 navigating through busy environments.
• Learn the key behind our product innovation from our team of consultants on how we bring the latest products – including the PIX250 iron core motors, and our Gantry + XY Theta with control station – to the market.
• Take a sneak peek at a selection of our robotics stations, envisioned by PBA and developed in collaboration with our partners.
[email protected] 2019 is located close to Hall 01 tradeshow entrance.
Be part of the Industrial 4.0 learning journey with over 15,000 expected visitors across 55 countries.
Get your free trade visitor pass here.